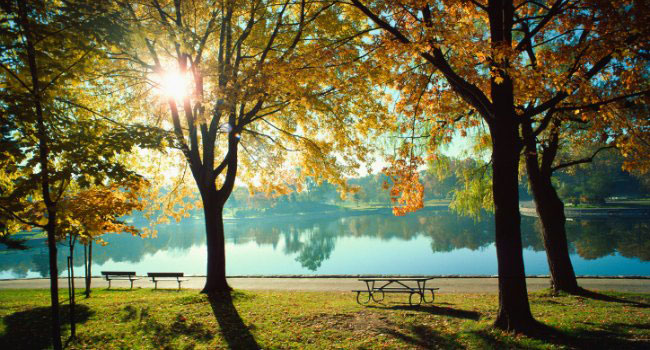 Little did I think Joy would enter my life again after burying my two oldest children, 19-year-old Peggy and 21-year-old Denis, following a freak car accident while they were on summer vacation from college. Peggy died instantly and we thought Denis would make it, but he died the day after we buried Peggy, and we began our preparations for a second funeral in one week.
My remaining child Annie left for college as a freshman 3 weeks later, so our home was very empty. Deafening silence haunted us. Thank God, my husband Joe was my rock and my "blotter" as he wiped away my tears. I thought he got cheated out of a bubbly bride since we were married only two years at the time and often joked that the honeymoon would begin when all three children were away at college. It wasn't funny anymore. In an instant our life had changed forever. We were full of questions? Could we have a meaningful life again? Would we ever smile and feel joy again?
Now years later, after recently reading The Life-Changing Magic of Tidying Up, and its sequel Spark Joy, two New York Times #1 Best Selling guides to decluttering your home by Japanese cleaning guru Marie Kondo which take readers step-by-step through her revolutionary method for simplifying, organizing, and storing, I wondered if this category-by-category system would work for grieving folks enabling them to reshape their lives as they attempted to build their New Normal.
While grieving, we seem to take inventory of what we are doing with our lives, sorting out what is worth doing and what now seems trivial or a waste of time after losing our child or a loved one. Exploring a variety of categories, many discover they want to spend more time with their families, be a better parent to remaining children, evaluate friendships deciding whether to rekindle or dismantle, skip meaningless meetings and functions, change jobs, connect with a higher power, schedule some "alone" time for thinking things out, and find a way to keep their child or loved one connected and remembered. Basically, they are trying to discover what is worth saving that will ignite joy in their life.
For tidying up, Kondo's books direct us to begin the project with clothing, gathering all of it in one room on the floor, and then to pick up each piece, one at a time, look at it, and ask ourselves, "Does this bring me joy?" Then we are instructed to keep it if it sparks joy in our heart, or to get rid of it if it did not register on our joy meter. Our heart tells us right away. We can't fool ourselves. The unique magic of a "tidy heart" helps us clear unwanted clutter to make space for joy, and ultimately discover the calm, motivated mindset it can inspire for our healing. So let's explore a few possible categories, taking one category at a time, examine what we feel, and discover what brings joy and what we can discard.
Look in your address book. Put a star next to folks who have been there for you, not putting demands on you, not telling you to hurry up and get over it, not trying "to fix" your grief, just willing to listen to your story and to give you the gift of their presence. Look at each name and say, "Do you bring me joy?" Now, you will have a list of dear friends eager for your call and you will have eliminated those who could cause you more pain. You have bypassed those who are hard to deal with, those who are aloof to your heartache, those who don't understand or are noticeably absent, and you can feel the joy of those who are there for you. Decluttering your address book can be a powerful guide to finding those loving people who will walk with you giving you the support team that you need to climb the mountain of grief facing you.
Take a peek at your calendar. See what events you really want to attend. Cross off those that take too much energy right now, add to your grief, are too painful to attend, or in which you have little interest at the present time. Try to add dates that will bring a smile, include places and people who will bring you comfort, select events that you can actually look forward to attending, and will gently get you out of the house giving you something to look forward to. It could simply be a walk around the block enjoying spring blossoms, winter snow scene or autumn's falling leaves; or dinner with friends or coffee with a neighbor. It doesn't have to be a big deal, just something that rings a joyful button. Putting a date on the calendar gives meaning to a day. It provides a chance for you to take back control of your life by enabling you to make some daily decisions, hopefully to add joy to the life you are rebuilding.
Check with your higher power. Give some time to asking yourself which fork in the road you will pursue. Pray for strength and guidance. Prayer is reaching, and every act of prayer stretches the soul. Feel the Divine presence with you and within you wherever you go and the joy of knowing you are safe and secure. Be open to divine ideas and creative ways to use them. In a peaceful inner space, be nourished and supplied with all that you need to return to the outer world. Realize that it is not courage, but the choices you make that will bring you a joyful heart. Don't rush, take your time. Grief has no set timetable as some think and demand. The rule of thumb is to do what helps your heart, nobody else's, just yours. Only when you function well can you be of service to family members and friends, so take good care of yourself. It is not selfish. It is the way grief works. Ask yourself, "Will this action bring me joy?" If not, try something else.
Do look in your closet and select those clothes that bring you to life. Give yourself a chance to feel pretty or handsome, to face the world with renewed vigor and purpose. Like Marie Kondo advises, "Ask yourself, does this item bring me joy?" Find ones that lift your spirits, make you feel alive and ready to face the world to tell them about your child or loved one. Make them proud of you for getting out from under the covers and taking positive steps forward. Empower yourself with vibrant colors and the determination to spread joy. Discard those items that pull you down or make you feel blue or scroungy. Choose to wear some clothes that belonged to your child or loved one and feel their loving presence and the memories they inspire. Clean out your closet and feel the joy from the outfits you have selected to keep. Call a thrift store for those that don't pass the joy test.
Count your blessings. Prosperity is the flow of blessings in your life. Try not to be overwhelmed about bills, finances, decisions to be made, or feeling empty and lonely. Be patient with yourself. Rather than affirming what's lacking, bless all you have and use it wisely. Take time to make two lists, one naming your blessings and the other listing those things that hamper your progress or get you upset. If you have been keeping a journal, just reading those pages over will give you all the information you need. Then rearrange your Blessing List in the order of those giving you the most joy. Use that knowledge when you are having a bad day (better than two Tylenol). Dwell on the positive
and live in the present. Savor the joy that you have created and be grateful to know those things to avoid as you work hard to cope and survive and have a meaningful life again.
Marie Kondo challenges you to ask yourself whether each object you have is achieving a purpose. Is it propelling you forward or holding you back? The mess is often about unhappiness, and that the right kind of "tidying up" can be a kind of psychotherapy for the home as well as for the people in it. The strength is in its simplicity.
Can this method transfer our cluttered heart into a space of serenity and inspiration? As one reader claims, "Thanks to Ms. Kondo, I can kiss my old socks goodbye." Another happy reader shares, "To show you how serious my respect for Ms. Kondo is: if I ever get a tattoo, it will say, Spark Joy!"
Are you ready to Spark Joy? Try it, you'll like it.
----------------------------------------------------
Elaine Stillwell is wife, mother, grandmother, educator, author and speaker, Elaine E. Stillwell, M.A., M.S., shares her gifts of hope and inspiration with the bereaved, simply telling what she has learned to cope and survive following the deaths of her two eldest children, twenty-one-year old Denis and nineteen-year old Peggy, in the same 1986 automobile accident. In addition to being Founder (1987) and Chapter Leader of The Compassionate Friends of Rockville Centre, Long Island, New York, (along with her husband Joe), she is also a Charter Member of Bereaved Parents/USA since 1995.