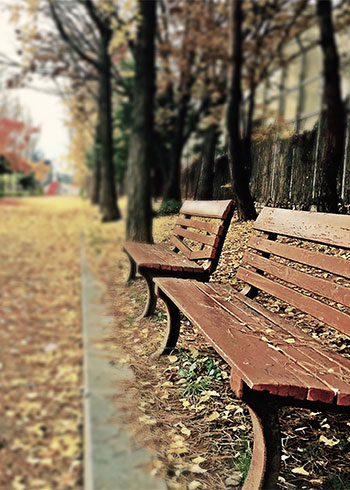 In memory of Bill, my beloved husband and soul mate, who died in 2010.
It's a twenty-four-year habit. Every morning when I awaken, I look across the bed to see if you are there. If you aren't, I look out at your chair, knowing you will be there. That you have gotten up before me and are quietly sitting in your chair meditating, being still, reading your Bible, waiting for me to waken.
Oh, you would have made the coffee silently, so as not to disturb my sleep. I never knew how you did that so quietly, but you wanted hot coffee ready when I woke up. That brought you joy. Loving me brought you such joy.
But that chair is empty now. Every morning when I awaken it is always empty. And every morning when I awaken, I am shocked and tears fall. Another day stands in front of me, like a Mt. Everest I must climb alone.
How do I believe my own eyes? I say to myself that it must be Sunday, and you have driven to the gas station to get my Sunday paper. You knew I loved my Sunday paper, and having it on my chair when I awoke made you smile…and made me laugh.
And then, wide awake, the dread hits… just the way it did the day after you died. It hits hard and deep—again and again. You will never sit in that chair again, never silently make coffee for us, never again sneak out to get me a Sunday paper.
This can't be true, my love. You just can't be gone. But that chair is empty; it has been empty for almost ten months now. And I, too, am empty. A hole exists inside of me—a canyon! No one can see it, but it is always there. No matter where I am, no matter what I am doing, no matter whom I am with.
Oh, they think it is mostly gone now. Little do they know (unless they are one of us). But I know, and you know, it will never go away.
Tomorrow, I will awaken and once again habit and hope will drive me to look at that chair. And while I know that tonight it will once again be empty, I will see you there smiling at me, blue eyes twinkling with joy because I am awake, and we can have a simple cup of coffee together, plan our day, talk about our dreams, hug each other tightly and know that we will somehow always be together…even though that chair, your chair, is empty.
And each morning I will feel tears on my cheeks, feel that awful dread, that tells me again and again that you are gone.
And those tears will flow (I know they will) until my chair, too, is empty.
Traces of You
Was it all a dream; did you really exist?
It all went so fast. Was it real?
I see your pictures on the refrigerator door.
Your clothes in the closet, the grandfather clock you made.
Your tools in the basement, your poems,
my memories; you must have been here.
Was it real; did I dream those incredible years?
A dream, now a nightmare that I live each day.
I remember waiting for you…
I dreamed for years of you coming into my life.
And then, one day, you did!
Our joy was endless; our love so deep.
Twin flames, one soul, hearts beating as one.
Oh, we had our squabbles now and then,
But the foundation of our love was ever so strong,
And we always knew we loved deeply.
We always quickly found each other's hand
Through each trial and each joy…each moment.
Now I wait again…
The shock of your absence ambushing me daily.
Each one grabbing me, as if a first, jolting me.
Robbing me of breath, stopping my heart.
There is so much I miss. It is all so indescribable.
I cannot count the ways.
No one can understand my pain, my loss
Only you would know what we no longer have.
The joy, the intimacy, the oneness.
And so I wait again,
trying to find purpose as I wait to be with you
where our joy will finally be endless.
--Please leave any feedback on our Facebook page--griefdigest
ABOUT THE AUTHOR
Mary Friedel-Hunt was born in Chicago on April 4, 1940. After college, she taught elementary school for fourteen years. She then obtained her Master of Arts Degree in Clinical Psychology, and as a Licensed Clinical Social Worker she worked in private practice and in residential treatment for close to forty years. She and her husband, Bill (William Hunt, Ph.D) a Clinical Psychologist, were married in 1986.. During their twenty-four years together, they shared a private practice and often did co-therapy with couples. They renovated their Wisconsin home, rode motorcycles and enjoyed walking in their sixty-seven acre wood and cross skiing on their own land. Bill enjoyed woodworking and writing poetry. Mary wrote weekly columns for the Bradenton Herald in Florida and the Vilas County News in Wisconsin.
In 1996, they moved to the mountain village of Ouray, Colorado, where they started a private practice, hiked the mountains and enjoyed the close and loving relationship they had both longed for all their lives. As they approached retirement, they chose not to remain removed from any large city, so they sold their home, bought a motor home and traveled the U.S.A. and Canada for two years. In 2003, they settled in the small town of Spring Green, Wisconsin, near Madison and near their former home. They opened a small practice in Madison and started a local publication, Voice of the River Valley, www.voiceoftherivervalley.com. In 2006, when Bill began to show debilitating symptoms of Alzheimer's, Mary moved her practice to their home office and took care of her beloved Bill who died in her arms on March 27, 2010. Now alone, Mary plans to return to her practice and focus on grief counseling. "I will do this in honor of Bill and those who are grieving the loss of someone they dearly love. I have learned just how difficult it is to lose a spouse and how our society is unable, in too many instances, to deal with those who are grieving. I believe that I can help someone who has lost a spouse, because I have walked that path."