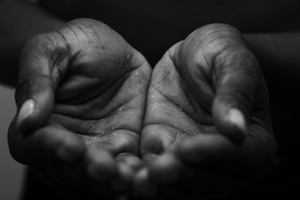 We do not always get to choose what life will teach us; life can be wildly unpredictable. On April 19, 2007, our lives slammed to a halt when our son, Matt, died. He was thirty-five years old, a graduate student in wildlife biology and on an exciting new path in his life. He was strong, tenderhearted, smart and devoted to all of us who loved him. And then…he was hit with a major depression so devastating that he could not recover. He tried hard to heal for eight months, doing all that we and the wise ones around us told us was most helpful, but he only sank deeper and deeper, until he gave up and took his own life. Since then our family has been putting our pieces back together slowly, agonizingly emerging from the awful pain that losing Matt has been.
W. S. Merwyn says it with such clarity: "His absence goes through me like thread through a needle, and everything I do is stitched with its color."
One way to think of the wounding that grief causes is to imagine our lives as a narrative—a story that we are telling as we live each day. It has a "beginning," a "middle" and a perceived "ending." It is shaped by all the decisions we make as we do what we do and believe what we believe. Then when some unimaginable pain hits us and our story stops cold. Everything is suddenly unclear.
What we face next is the hard task of re-starting our story. We must re-frame it with this new chapter we had not expected to write. We must, re-order the direction we are going, try to find a new rhythm and even rename ourselves in the process, because we are no longer the same as we were before all this happened. It is huge, and it is hard.
It seems to me that even though grief experiences can be very different, everyone goes through at least three similar phases. I call these phases "Living in the fog," "Living with the questions" and "Living into new skin."
"Living in the fog" feels like stumbling around in the dark, having no idea where you are and finding it hard to care. In this first phase of grieving, nothing looks, feels or sounds the same. When my dad died, my mother said, "I feel like an actress in a play." It is numbing.
For me this initial part of grief felt like a full-body assault. All I could do was feel, and most of the time that was exhaustion. Emotional pain takes enormous energy. Heartache is a real physical ache in the chest. Grief can be very visceral. With emotions taking control, the brain doesn't work very well. Decisions are hard to think through, and train of thought gets confused. To say you are overwhelmed is putting it mildly.
People can feel very vulnerable during this time. They don't want to go anywhere because they sense that everyone is staring. They feel like they "stick out like a sore thumb" and there is no energy to mask the devastation or try to "be normal." Small talk is impossible, but naming the pain is worse. It is a brutal time, fragmented and ragged. If the loss is traumatic and violent in any way, this time can be intensified, and healing from the terror becomes necessary before grief can even begin.
So what helps? People who are simply willing to be with us in this uncomfortable place and to join us in bearing our pain are an enormous gift. Grief can be surprisingly lonely. Ask them what they need. Don't assume you know. Listen open heartedly to their story again and again, because in telling it, denial slowly fades. Don't be afraid you will make them sad. You cannot do that. They are already sad. Share what you remember about their loved one. Nothing comforts like someone cherishing precious memories with you. Then you are not so alone. Don't try to fix this for them or give it meaning. You can't do that. Don't judge their reactions. They may be wildly different from what you expect. They may even change dramatically from one time to the next. Just love them as Mother Teresa says, "with a unique and particular love."
As the fog lifts and the brain begins to function again, the questions emerge.
• Questions of confusion : Why? What if? Why now? Why this? Why us? What will I do? How can I live with this? How can I stand this?
• Questions of Blame and Guilt: What could I have done? Is this my fault? Why didn't he/she do this or that ?
• Questions of Faith: Why did God allow this pain? Where was God? What does this mean? Where is God now? Who is God? I thought I knew these things, but I don't know anything….
At first, it would seem that there is no help to offer in agonizing questions like these, but there are some things to do. Caregivers can simply validate the questions. They can reassure us that these are normal and appropriate. They can listen to us and encourage healthy coping mechanisms, like writing, reading, seeking counseling or joining a support group where the questions will not seem so strange. They can remember that our grief journeys can be very different, and what seems helpful to one may not be helpful to someone else. They can reassure us that we can ask these questions as long as we need to, and they can remind us that the day will come when we won't need to ask those question anymore. They can offer patience, because patience is what a grieving person needs so desperately.
Eventually, the time will come when new skin begins to grow. This is the transforming part of grieving when hope and resilience are reborn. John Schneider, Ph.D,. says that, at first, a person who is grieving can only see what is lost, then they begin to see what is left and finally they are able to see what is possible. The time thankfully comes when the new skin begins to feel more familiar and no longer a place we struggle to avoid.
With the new skin, comes certain new realizations. There slowly grows an awareness that our lives have prepared us for what we need to do. Being able to reflect on steps we have taken in the past that have led to the strength we need now is reassuring. We learn to be able to recognize and take seriously the "glimpses of hope" that often come unannounced. These are the coincidences that seem like more than coincidences; they seem like special communications between us and the ones we lost. Honoring this new communication helps. Taking time to develop contemplative practices, like meditation or yoga, can help to open us up to what is possible. Planning for the marker days that are difficult to face (like birthdays and anniversaries) becomes less complicated. Having a ritual to intentionally remember special times makes living through those days a little easier.
Being active, especially being out in the natural world, is energizing. Walking, hiking and soaking up nature makes it easier to recognize that the wholeness and beauty of the world doesn't depend upon us.
And finally, focusing on gratitude. We realize that while the reality of our loved one's death is so front and center and so tangible, it is held within the reality of love, which is able to hold all the pain and hope together. Only the heart can grasp this truth.
This morning,
bathed in the light of this new day
with its sparkling, glittering, quiet newness,
it comes to me that Matt's death is not a loss
but a difference.
I feel him so strongly;
his spirit shining more brightly each day
as he grows into his new existence,
learning to breathe the light,
travel with the wind,
sing each bird song,
greet me in each flower
and surprise me over and over with brilliance.
We haven't lost him…
we must simply learn a new way to be together,
and once we do that, this will be so much easier—
less tangled,
less fractured,
less anxious,
less dependent upon the physical and the temporal
My tears change;
sometimes they don't come from sadness
but from the joy of Truth.
---------Please leave any feedback on our Facebook page--griefdigest
ABOUT THE AUTHOR
Janie Cook, M.Ed, MA in Theology, currently resides in Austin, Texas, with her husband, Gareth. She is a retired teacher of ethics and theology, has served as a coordinator of educational ministries for two churches and is trained in clinical pastoral education. She and Gareth are the grateful parents of two, a daughter, Laurie, who is married with two children, and a son, Matt, who died by suicide in the midst of a major depression in April, 2007. Since the summer of 2008, Janie has been a participant in the bereavement ministry of her church and currently serves on the Board of Directors for My Healing Place, a grief center where she facilitates a support group for bereaved parents.
APRIL 2010 GRIEF DIGEST REPRINT