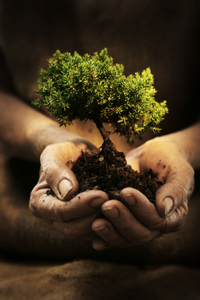 People often ask me how I survived the death of two children four days apart and prepared two separate funerals in one week. My 19 year old daughter Peggy was killed instantly in a freak car accident and my 21 year old son Denis died four days later from his injuries, the day after we had just buried Peggy. When the last funeral guest went home the evening of the second funeral, leaving my husband and me all alone after being pampered and waited on for a whole week, I can remember thinking, "How do we get up tomorrow?" Let me share with you a few simple things that carried me through those dark, early days.
Meeting the Challenge
I chose to live, promising myself to keep my tiny family of three intact, to keep Peggy and Denis remembered, to not waste that special love I had for them, and to make them proud of me. It was an unreal situation, since my remaining daughter was planning to leave three weeks later to be a freshman in college 250 miles away. All the excitement of living her dreams was put on hold as we all tried to realize the new world we were living in now without Peggy and Denis. We actually had to dig deep for strength to go shopping, the last thing we wanted to do, but had to finish gathering all the things Annie needed to take away to college. Then, we had to find the energy to pack it all up and deliver it with her to college. It did give us a few moments of distraction, time to focus on something else rather than our heartache, but it was hard because we were exhausted from the trauma we had endured. Many people thought we should "protect" Annie and not let her go away to school, but I was not about to put a butterfly net over her and dash all her dreams of attending Loyola College of Maryland. As tired as I was in those months, I wrote to my daughter every night to make sure she had something in her mailbox each morning (this was life before we had the joy of email).
Finding Our Way
Basically, saying goodbye to three children, all college students, in a span of three weeks, makes a house very quiet, no teasing, no phone ringing, no loud music, no arguments, no late nights waiting for them to come home. My husband and I turned to each other for consolation and hope and the determination to have a meaningful life again. We were only married for two years at the time, still on the honeymoon so to speak. The family joke was that "our honeymoon" would really begin when all three children would be away at college. That joke wasn't funny anymore. Returning to work three weeks later, in addition to grieving, took every ounce of energy we had. Luckily, our home was our nest and we found peace there. Doing simple chores and working in the garden offered us some respite, but I think our love of music soothed our weary souls and helped us relax and have quiet, healing moments together. We didn't have to say anything, just being there for each other, holding hands or sharing a hug, made things seem better.
Leaning on Love
I felt Joe got cheated out of having a bubbling bride. Every day when I got home from teaching my little third graders, I dropped into my comfy recliner and cried, no longer able to hold back the tears. Joe gave me that sacred time and space, then dried my tears an hour later as he asked, "What's for dinner?" bringing us back to reality. I lovingly referred to him as "my blotter." Although he was not their biological father, he loved my children and me with his whole heart. Yes, we grieved differently, but as new as we were to grieving, we were able to hold each other up by talking, loving and doing sweet things for each other. At night, whether laying in each other's arms or making love, we renewed each other's energy by clinging to each other like gorilla glue, becoming each other's lifeline. We were a formidable team determined to make our children proud as we carved out our "New Normal."
Discovering the Power of Words
I read everything I could get my hands on about grief, dying to know how to survive and believe me, there wasn't much out there in 1986. Joe did not read the grief books but he listened to all the helpful suggestions I gathered from them. He never made fun of anything I shared as we walked the long grief road together. Reading, talking, sharing and loving became the four leaf clover of our existence.
Responding to Doggie Therapy
The key to the whole family's survival was the gentle therapy provided by our black Lab, Mickey, who not only got us up in the morning, directed us to the refrigerator, walked us around the block, insisted on being by our side on the sofa, bed or car, but radiantly proclaimed with those big brown eyes, "I'm here for you." He ministered to all of us making us smile and laugh with his antics; dragged us out of the house and guided us to notice trees and flowers again, bringing us back to life. He was the "jump-start" in our survival, especially for Annie, now an only child, who desperately missed her sister and brother.
Learning We Did Not Have to Walk Alone
Fourteen months after our children died, Joe and I founded a chapter of The Compassionate Friends (a national support group for bereaved parents) in our hometown. As Chapter Leaders we were truly the "blind leading the blind," since we knew as little as everybody else about grieving. But we all learned together as we listened to audio tapes on a boom box, and I, professional teacher that I am, led the discussion of each grief topic we explored. Being surrounded by other bereaved parents shouted a great message to us, "We were not alone." Instantly bonding, we gave each other strength and courage through mutual support, dividing our grief and reaping the many rewards of reaching out to others, which I call the "boomerang effect." Without knowing it at the time, that group was like the Marines coming to our rescue, bringing us the gift of lifelong friends who "walked with us" and best of all, understood our pain.
Realizing the Magic Link
Leaving the church on the way to the cemetery following the second funeral, I remember the lady running next to the limo shouting at us, "Your faith, it's got to be your faith that's holding you up!" As I look back all these years later, I guess my faith had a larger part than I realized at the time, like imbedded in my DNA. Instinctively I turned to God and His Blessed Mother, begging for help, and found comfort believing that my children were together, safe and sound, received into God's Loving Arms, as much as I wanted them to be here with me, and that we would be reunited one day. Praying to Peggy and Denis, which was simply talking to them each day, also eased the burden in my heart. At Mass each Sunday, I felt very close to them, feeling their happy presence, more so than when I visited the cemetery. But unbeknownst to me in those early days, the simple ritual of praying with my husband, kneeling side by side, week after week, as we took time to thank God for all our blessings and the time we had with Peggy and Denis, was the magic, healing ingredient. It linked us together with God's Love, empowering us into action, doing many things in memory of our children, insuring that they will never be forgotten, while making the world a better place.
Isn't that what survival is all about?
---------Please leave any feedback on our Facebook page--griefdigest
ABOUT THE AUTHOR
Wife, mother, grandmother, educator, author and speaker, Elaine E. Stillwell, M.A., M.S., shares her gifts of hope and inspiration with the bereaved, simply telling what she has learned to cope and survive following the deaths of her two eldest children, twenty-one-year old Denis and nineteen-year old Peggy, in the same 1986 automobile accident. In addition to being Founder (1987) and Chapter Leader of The Compassionate Friends of Rockville Centre, Long Island, New York, (along with her husband Joe), she is also a Charter Member of Bereaved Parents/USA since 1995. Elaine shares her unique gifts of caring and humor with audiences across the United States at workshops and seminars, in radio and television appearances, and through her numerous magazine articles.