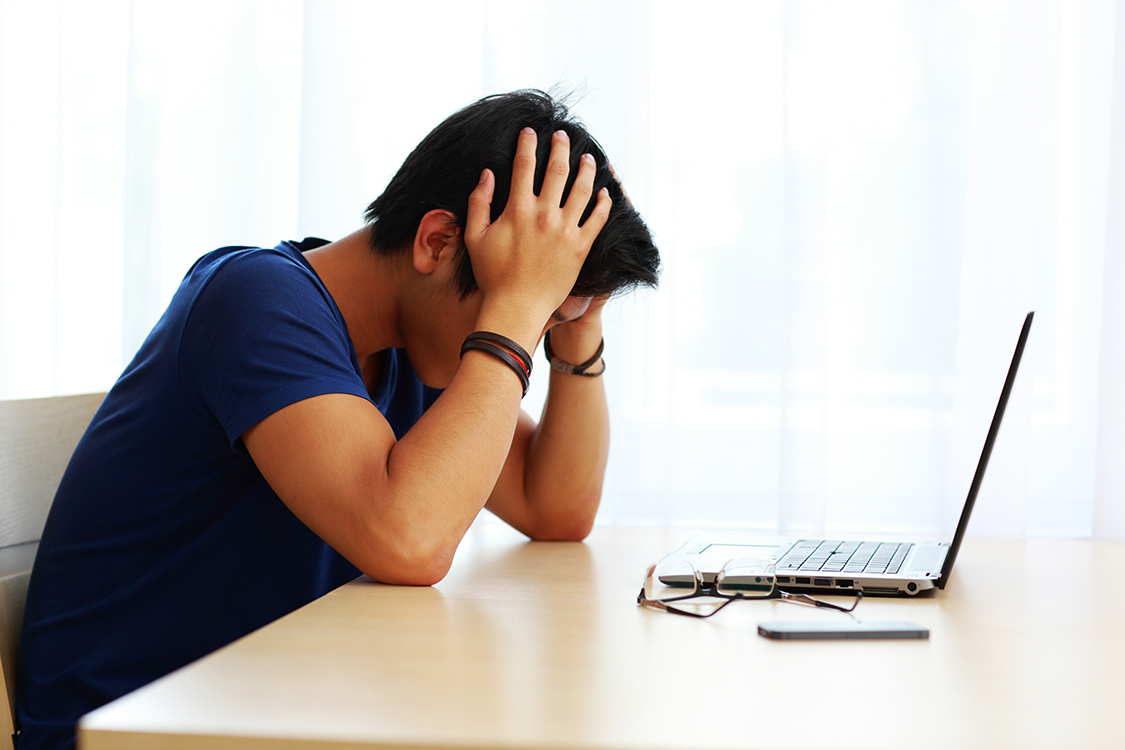 It's no fun to be struggling to stay alive and be positive about life, when our heart is broken and we feel overwhelmed and lost with the death of our loved one. Even though we are making progress and have promised ourselves to "hang in there," to go through our grief rather than choosing to avoid it, we still have to deal with the excruciating bad days that can suddenly appear without any warning.
When my two oldest children, 21-year-old Denis and 19-year-old Peggy, were killed in a 1986 car accident, I had no idea how long the grief process would be part of my life. I gradually learned that it's not a short-term process, nor is it a long-term process, but rather a life-time process. It's how we handle it, make the most of it, incorporate it into our lives, that helps us put our best foot forward, giving us the power to be valiant on those days that are dark, bleak, scary, and threaten our hard-earned progress.
I found some of these ideas a real tonic to lift my spirits, give me hope, and help me climb out of the dark pit that seemed to surround and engulf me. Hopefully, some will work for you.
Be Connected. Love never dies. We want to keep the communication lines open with our loved one. Whether we are talking to them, praying to them, writing about them, lighting a candle for them, our relationship continues. They are not gone, they have simply gone ahead. To feel even closer to them, some of us lovingly wear a linking object, something that belonged to them, like a sweater, a hat, a piece of jewelry. Others march directly to the tattoo parlor to choose a meaningful symbol, a heart, a butterfly, a shamrock, to feel connected in a special way. Each of us finds something that helps our heart remember all those treasured memories with our special person that bring a welcome smile to our face and lighten the burden in our heart. Maybe making a shrine on a tabletop, cabinet, sideboard, or TV, sharing framed pictures of our loved one or any objects that were meaningful to them, or items significant to us like angels, butterflies, flowers, printed prayers, or sayings, would help us feel lovingly connected when we miss them so much. Some hang their loved one's picture by the front or back door, throwing a kiss or greeting to them as they enter or leave their home, making them a part of their everyday lives, always remembered, staying connected.
Be Determined. We want our loved one to be proud of us, watching over us as we walk each stepping stone of the grief journey. It's hard work. Hang on while riding the roller-coaster of grief. You can yell and scream all you want as your grief hits all those curves and dips and bumps, but don't give up. Know that a bad day just means you can "start over" tomorrow. Have realistic goals that you can meet. Be fair to yourself. The bad news is that we all have bad days that blindside us, but the good news is those days enable us to feel the beauty of a good day, the love of a dear friend, the magnificence of a gorgeous sunset, and the elegance of a bouquet of flowers. Make a list of Affirmations, promises to yourself, and hang them on the bathroom mirror or refrigerator door, reminding yourself what you have promised yourself to do, like, "I commit to healing," "I express my emotions," "I tell people what I need," and "I make time for myself." If we are determined to make the best of each day, we can make crisis an opportunity for good things to happen. Staying in dialogue with God helps too, whether we are ranting, raving, crying, questioning, or bringing our most passionate feelings to our Creator. God is the only One capable of handling the full intensity of our negative emotions, our questions, our fears, and our pain. You will see answers, often in unexpected ways, which will get you out of the doldrums.
Be Daring. Try new avenues of help, opening yourself to new experiences like joining a support group, attending a bereavement conference, seeking private counseling, or checking out the grief books in your own public library. Let yourself be inspired by the heartfelt messages of these facilitators, speakers, and authors, as they share their wisdom, giving you both a challenge and motivation while filling your soul up with hope and good thoughts. You would be surprised at the happy faces that greet me after bereaved grandmas, moms and dads, and siblings show me their new tattoo (and most times their only one) inscribed with a sign that gives them support and a deep connection with their oved one. Just touching it seems to infuse them with new strength on a bad day. Collect some memorabilia, special objects with great sentimental value of your loved one, and make a Memory Box or add to the one you already have, filled with letters, cards, pictures, diplomas, prayers, medals, whatever warms your heart, like Denis' little Ziggy doll dressed in graduation cap and gown, with "I is a brane" emblazoned on its chest or Peggy's last Mother's Day card three months before she died, which read, "Remember all that trouble I used to give you" and on the inside proclaimed, 'I'm almost through!"
Be Positive. It's what you tell your head. Each morning when I get up, if I say, "I'll never see my children again," my stomach does flip-flops and I feel devastated. But instead, if I say, "I'm one day closer to seeing Peggy and Denis," my heart sings. Stay in the present. Every moment is precious. Now is the time for us to forgive, reach out, and express our love. As Mother Teresa reminds us, "Not all of us can do great things, but we can do small things with great love." Repeat things that you know bring a glow to your day. It could be reading, golfing, walking the dog, visiting a good friend, playing with a grandchild, listening to soothing music. Follow your heart. That's the rule of thumb. Do what you can handle, not what overwhelms you. Some of us might be letting the laundry pile up, ignoring the cooking, avoiding relatives, or not answering the telephone, but we might be creating the most gorgeous garden or knitting hundreds of scarves or becoming a master carpenter. We grab onto anything that is a lifeline for us, something that relieves our pain and gets us through another day, maybe even with a smile. We have the power to choose. Remember, your own mind is a sacred enclosure into which nothing harmful can enter except by your permission. We can control how we do our grief work and our attitude toward our healing. When we can't control what's happening, we challenge ourselves to control the way we respond to what's happening–that's where the power is. We can infuse our life with action and love. Our choices will direct our healing through every step of the process, and we will feel the comforting rewards of our positive actions.
So, as we are busy rescuing ourselves from a bad day, let us remember (and even smile at) Voltaire's prophetic words, "Life is a shipwreck, but we must not forget to sing in the lifeboats," reminding us to be grateful for life and the chance for a better tomorrow.
ABOUT THE AUTHOR------------
Wife, mother, grandmother, educator, author and speaker, Elaine E. Stillwell, M.A., M.S., shares her gifts of hope and inspiration with the bereaved, simply telling what she has learned to cope and survive following the deaths of her two eldest children, twenty-one-year old Denis and nineteen-year old Peggy, in the same 1986 automobile accident. In addition to being Founder (1987) and Chapter Leader of The Compassionate Friends of Rockville Centre, Long Island, New York, (along with her husband Joe), she is also a Charter Member of Bereaved Parents/USA since 1995. Elaine shares her unique gifts of caring and humor with audiences across the United States at workshops and seminars, in radio and television appearances, and through her numerous magazine articles.