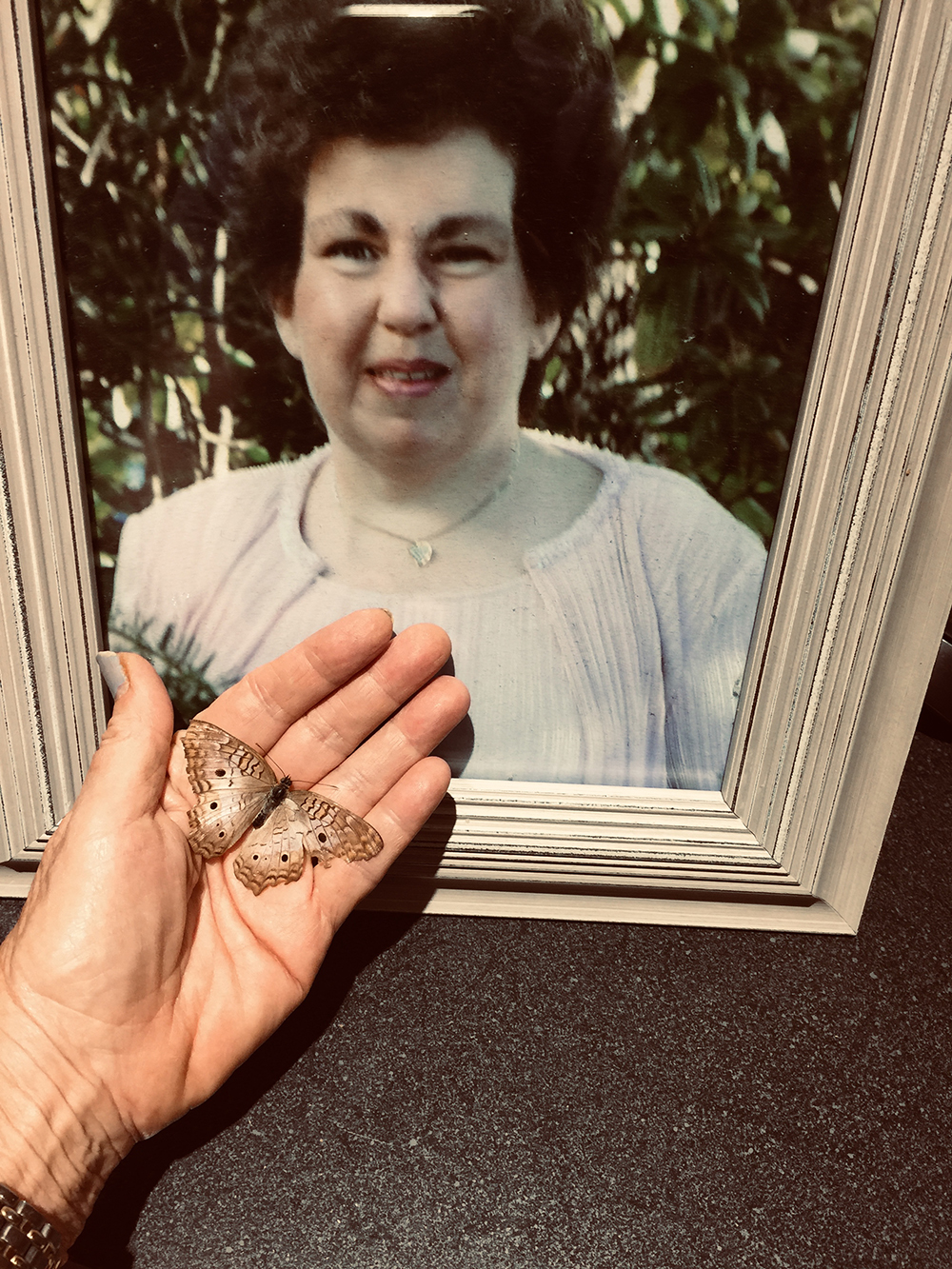 Since 1958, I have been writing stories that I have encountered and impacted my life.  This, however, is the very last one that I shall write for no other story could even compare.  It is not only the most powerful and heart wrenching… but surreal, thought provoking and true.
WE ALL HAVE TO DIE, BUT IT IS WHAT HAPPENS NEXT THAT NOBODY KNOWS.  
Without saying, it is tragic for the ones that die, but harder for the ones left behind.  
I could have stayed in bed the rest of my life when my daughter Bari died. I could have remained broken and stayed submerged into the depths of darkness forever…lost in a cave of grief.  But there was an inner strength that kept me alive. For one entire year, without missing a day, I wrote in my journal and tried to be thankful for the years I had with her.
Every mother that loses a child knows their broken heart will never be the same. Sure it will beat, but to an entirely different drum. They have now entered a world irretrievably altered. My views on people and life became irreparably changed and I became different.
A family must mold itself to special demands.  Bari was a special child with special needs. As a result our connection was stronger than most and intense. At the age of three her brain tumor was diagnosed. Doctors called it an Astrocytoma, some of which had known to be cured. And so we forged ahead with hope. Because it was on the pituitary, optic nerve and hypothalamus it could not be entirely removed. For thirty-seven years we lived under a cloud of fear, heightened by surgeries…so many shunts…and hundreds of Cat scans and tests. Despite the torment and upheaval in Bari's life she was the most positive and joyous soul. I never felt like the caregiver I was because of the daughter I had. Some say that love is so powerful it is a mysterious tunnel that nobody knows where it leads…that it has a force of its own…so strong it can even change its shape.
After the passing of your child you have little choice but to navigate the rutted road.  You can stare into space and be rendered non-functional or attempt to heal. And so I joined the organization of Compassionate Friends. But it was the smaller group called COPE, which opened my awareness to the closed doors of what could be and was. I listened to Psychics and learned about the soul and was told by many…"BE OPEN TO SIGNS AND THEY WILL COME."  I was one of the lucky ones for some parents never… ever… get a sign. A sign is not an act of remembrance or an act of grace. A sign is your child confronting you in a clear, different and powerful way. It is for the purpose of conveying a presence. A SIGN IS THE ONLY VISIBLE WAY TO ENCOUNTER THAT NEEDED RESURFACING. 
Most people who have never lost a child will disbelieve and say it was a coincidence…But know there are no coincidences…there are only connections.
Yes, I am one of the lucky ones for throughout the last nine years of Bari's passing I have received numerous and wonderful signs…each as special, and more impactful than the last. But what I am about to reveal of my latest sign is so amazing…so surreal and significant, which  has led me to the profound emotion of a spiritual journey of hope and faith. And when you read my story …. You too shall believe.
"JUST WHEN THE CATERPILLAR THOUGHT THE WORLD WAS OVER IT BECAME A BEAUTIFUL BUTTERFLY"
It sat inside my kitchen, upon the screen, flapping its wings….A beautiful and unusual white butterfly…on each wing was a spotted dot …not the ordinary and common Monarch butterfly often seen and found where I live. I quickly went on Google and typed in "white butterfly."  What I read was powerful and pertinent. 
"Butterflies are a common sign sent from deceased loved ones as a sign that their spirit lives on."  Yes, I had been most fortunate to have seen many over the nine years that Bari was gone but never the white butterfly and certainly never in my home…I was aware of its connotations, however I was not aware that in both the Greek and Chinese symbology a  white butterfly symbolizes angels are watching over you and the departed soul of a loved one is wishing you good health and well being.  It is said that when a white butterfly enters your home it will bring you good luck.
HERE IS THE STRANGE CONNECTION. I WAS JUST RELEASED FROM A WEEK'S STAY IN THE HOSPITAL DIAGNOSED WITH SEPSIS. WHAT AN AMAZING INTRODUCTION WELCOMING ME HOME!!!
My children, Lori and Amy were as wide-eyed as I.  And my wonderful husband Dick simply shook his head in disbelief.
When I woke up in the morning the white butterfly still sat on my screen as if it were awaiting my entrance. I told Dick to take my I-phone and record what was and I am so thankful he did.
I extended my hand to the butterfly, fearful it would fly away…But it did not… and I spoke to it in the most soft and gentle voice. I asked it to fly on my hand and it fluttered its wings and obeyed, almost like a pet would. And then the most miraculous thing happened and if I did not play back what Dick had recorded I would have thought all that occurred was simply a figment of my imagination.
I raised the back of my hand to my mouth and with the most tender of all kisses my lips embraced its wings. Over and over again I kissed this white butterfly while continuously feeling the presence of Bari. AND IT DID NOT FLY AWAY…IT REMAINED. With a raspy and overwhelmed voice I then spoke to this butterfly that had obliged my needed wishes. And as the tears flowed upon my cheeks I knew this was indeed a powerful message from my beautiful daughter. An unspoken sign that reverberated with profound and extraordinary inspiration, saying…."I AM HERE…I HAVE NEVER GONE AWAY…I LOVE YOU."
How I wanted to embrace this butterfly forever, but Dick insisted to let it go outside where it belonged… reluctantly I brought it in the backyard and placed it on a vibrant pink flower… Bari's favorite color. I had to touch it just one more time and when I did realized the butterfly was still. It did not flutter its wings and moved no more. Yes, the butterfly had performed its necessary task to bring a message.  Its presence speaking in silent words. "I AM HERE…I HAVE NEVER GONE AWAY …I LOVE YOU"      
This amazing visit was during the month of June… I now continue my story. Time has forged ahead.  It is now the month of December, six months after my beautiful encounter with the white butterfly.   I have migrated and settled to my home in Florida and what I now openly convey is as remarkable, surreal and as full of wonderment as before.
The quiet evening began by inviting my friend Sylvia for dinner. This was a special friend who, when Bari was three, and needed treatments of radiation, arranged and coordinated friends to transport us to Memorial Hospital each and every day for six weeks…As we were preparing to walk her to the car I opened our front door and flying above our heads was a beautiful beige colored butterfly with three dots on each wing. Sylvia was shocked that a butterfly had presented itself at 10:00 at night….most unusual. She never expected to see that.   
BUT I KNEW THIS WAS NO ORDINARY BUTTERFLY….THIS WAS A SIGN FROM MY BARI!
Once again my surreal experience began. I put my hand straight out…the butterfly hovered above and similar as months before it sat on the backside of my right hand. Slowly we all walked back through the door. Sylvia was freaking out, a butterfly at this late hour in my house… And as repetitious as before, I raised my hand to my lips and gently kissed its wings…THE BUTTERFLY WAS SUBSERVIENT, ACCEPTED MY KISSES AND DID NOT FLY AWAY. Because Bari had never seen this Florida villa I walked the butterfly into each room, identifying the layout of our home. I spoke to it as if it understood and tenderly shared what I wanted it to know. And then, as before…I placed it on a flower in my atrium, only to realize it too had died. LIKE THE BUTTERFLY BEFORE IT CONVEYED ITS MESSAGE OF LOVE AND FINALIZED ITS VISIT!
What I have been so fortunate to experience, not once…but twice, was more than SURREAL....These visits were a reason to believe in the afterlife…That life does not end after death.  It portrayed the power of the soul and how it transcends.  This inspiring and profound experience has infiltrated the workings of my mind to everything that can lie ahead.  
The best and the brightest are subjective to the presentation of signs. There have been face to face interviews, spontaneous questions and answers, all leading to detours of written scores of articles, research, yet nothing definite can be proven…only what you, yourself believe.
To say I am grateful for what I have experienced is a poor choice of words for what I have witnessed is beyond words.  These two butterfly encounters have been rare gifts and I have been the lucky recipient.  This was a major revelation that sets the tone for possibilities and connectivity.  It was more than comforting …it was reassuring. Death is not final and one day when I too leave this earth I will connect with my daughter and embrace her with love.
*****Photo of butterfly by Bari's framed photo.
About the Author-------------------
Sheila Swedlow is a wife, mother, grandmother. Since the passing of her daughter, Bari, she's added a new dimension to her writing, hoping to reach and inspire the struggling bereaved to heal from their losses. Born in Brooklyn, New York, she attended Brooklyn College and was graduated Cum Laude from Adelphi University in Garden City, New York. Sheila taught in the public and private school systems on Long Island. She also had careers in local government, real estate sales and collecting and marketing antique American clocks. Since her retirement, she has been able to focus on her passion of playing golf. Presently, residing in Atlantic Beach, New York, with her loving and understanding husband, Dick, she attempts to adapt to a new life irretrievably altered by their loss.