Finding Solace at Faith's Lodge
"Are you ready?" My husband sweetly asked as he looked up at me with his head rested on my body as he was holding my pregnant belly. His eyes were full of excited anticipation at becoming a dad for the first time.
"Nora we are ready for you," he kept talking to my pregnancy bump and our daughter, lively kicking inside, as he waited for me to respond to
his question.
I let out a deep exhale and was honest about my fear of becoming a first time mom, "No." But I was actually thinking, How can anyone be ready for such a life-changing event? Keeping my lips sealed, I let my thoughts turn into an adoring smile as I looked down on my belly and tenderly watched my husband love and bond with our daughter before she was born.
Without looking up, he continued to talk to Nora and told me, "Well, you better be." I just smirked at his response and under my breath muttered, "Yeah, I better be."
I never thought then that "Are you ready?" said in that intimate night in the bedroom with my tender husband and safely snuggled daughter in my womb would mean, "Are you ready to live without your child?" The question asked then was inquiring if I was prepared for a life WITH a child, not learning how to live a life with a dead one.
Fast forward four weeks and I am sitting at a silent table picking at hot dish, a made with love Midwest comfort food, trying to find the words to introduce myself to three other couples and a single mom who make up our group of bereaved parents in a stunning lodge out in the northern Wisconsin woods. A lodge founded by Mark and Susan Lacek – who experienced the stillborn death of their first daughter – with the mission to provide solace to parents like themselves who experienced the death of a child. My husband is the one who thought it would be good for us to go. I was hesitant and reluctant about the idea. I was not ready to share my grief. Not with a bunch of strangers who didn't know me, even if the facility was breathtaking and the landscape serene.
My husband broke the uncomfortable quiet at the dinner table that first evening the best he could with, "Hi I'm Nick, this is my wife Lindsey." Silence was accompanied by the buzz of the heating vents and sad eyes as our peers acknowledged Nick's introduction with eager faces waiting for him to explain the reason we were there. The same reason we were ALL there in a comfy cabin in the woods, our child died before or shortly after they were born.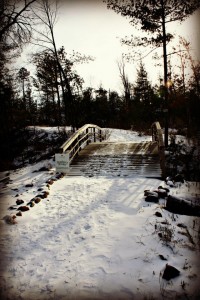 "Our daughter Nora was stillborn at 40 weeks gestation." Silent nods encouraged Nick to continue as I and the others pushed the food around our plates pretending to have an appetite for what smelled like mouthwatering, decadent mac and cheese with just a hint of paprika spice. He cleared his throat to continue as his eyes were filling with tears of the fresh pain that settles deep within you, plants itself within those first moments of shock upon learning of the death of your child and then slowly starts to grow and take form over the next weeks, months, and even years.
"We went to the hospital that night because Lindsey was in labor. We were expecting to deliver our first born baby girl, but once we got there…" His words started to trail off and I finished his story by frankly stating without looking up from my steamy, cheesy dish, "They said there was no heartbeat." Tears were welling in my eyes and began falling onto my plate as they rolled down my cheeks like flooded Minnesota rivers, after the snow melts in the spring. In that moment, I was afraid to lift my eyes and have them meet the others in the room. I did not want any more looks of "so sorry for you" sympathy or platitudes of pity. There had been too many of them in the last month. I was exhausted, tired of being perceived through eyes that didn't understand the depths of my pain or the true
torment one experiences over the death of their child.
"Our baby died too," I heard the woman next to me say softly. My eyes moved away from the plate to meet hers as she continued, letting out a deep exhale I didn't realize I was holding in. Now it was my turn to listen. "She died of a heart condition. We knew about it before she was born and hoped that everything would be fine…" the woman's voice softly going silent as she reached for the tissue box she had just offered me, "but our little girl died two months later in the hospital. She never came home." Again, silence, but accompanied by something different than the silence of those who do not know this grief. This silence was partnered with understanding nods and knowing eyes with tears lingering in them.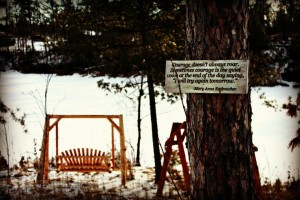 A loud exhale was heard as the next story was about to unfold with the sentence, "Our daughter was born premature. She died six months ago." Another father chimed in and our attention politely turned to him and his pain. As each story unfolded, my soul that had been closed to others magically opened and the two-ton weight chained to my heart began to slowly break. This was the first time I had met another parent whose child had died. This was the first time I felt like I really got to BE a parent. Who knew it would happen in a cozy dining room up in the northern woods of Wisconsin on a bitterly cold January day, surrounded by other bereaved parents eating casserole and sharing so honestly and so bravely about their own pain. It was here, that I felt connection to others again. It was then, that I felt connection to life again.
The rest of the weekend unfolded in such a beautiful and healing way. I felt I was able to really be me – this new me that is a bereaved parent, who loves and misses her daughter. I got to tell stories about Nora that I felt I couldn't share with others, because others hearing our story now feared our fate might become theirs. Nick and I got to say proudly and openly, "I am a mom" and "I am a dad" and no one questioned this statement even though there was no child to show to prove the idea to be true. We came and went as we pleased, we mingled with other parents, took time away from the group to spend together. We were able to reach for each other and really reconnect across the ocean of grief that had settled in between us over the days and weeks since our baby died. We connected with nature and the solitude of grief as well as engaged with others over a bonfire and even had moments of laughter, yes laughter, with fellow grieving hearts
like ours. When it was time to leave it was hard to say goodbye. Not just because of the relationships and connections we had made, we would be able to take those with us, but because of the time we had spent with our grief. The time we had devoted to honoring and remembering our sweet daughter Nora.
People often asked me what I did at Faith's lodge and I tell them, "I spent time with Nora." I got to know her, strengthen my relationship as her mom, and I also got to say goodbye to her. There is a beautiful tradition at Faith's Lodge where you paint a heart stone. We picked out a heart-shaped rock and painted it and decorated it to represent our little girl. When we were ready, we were encouraged to place the rock out by the Bridge of Hope, with other children's memorial heart stones.
Our last act before leaving the lodge was to go out into the cold January landscape of a Northern Wisconsin winter and place our heart stone for Nora among the stones of other beloved children who left this earth too soon. We took this opportunity to have another moment with our daughter's memory and say goodbye in a different way than we had over the previous weeks. Walking down to the memorial bridge I exhaled deeply, seeing my breath in the chilly air and evaporate as quickly as it came, almost as a metaphor for my daughter's short lived life. A feeling of longing to hold my sweet baby girl arose within a place in my soul I did not know existed. Not being able to hold her, I reached for Nick's hand instead, risking exposure to the frigid temperatures. I didn't care if I got frost bit, I needed to hold him. In that moment I needed to feel his skin next to mine as my daughters should have been. He reciprocated the gesture by reaching towards me and clasping my hand and placing it in his pocket. While leaning in close, hand in hand and letting out his own deep breath of grief, he gently asked, "Are you ready?" It was like deja vu from a few weeks before. The same answer came, and again I said it out loud, "No." and this time his answer was different. "Well, you don't have to be."
And he was right.
I learned that weekend at Faith's Lodge that I didn't have to be ready. I could just be.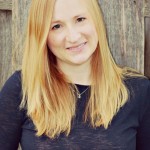 About the Author: Lindsey Henke is a writer, clinical social worker, wife, and most importantly a mother to two beautiful daughters. Unfortunately, her oldest daughter was stillborn after a healthy full-term pregnancy in December of 2012. Since then, she has turned to writing on her blog, Stillborn and Still Breathing, to soothe her sorrow and has found healing in giving voice to her grief. Lindsey is also a monthly contributor to Still Standing Magazine and was featured as Pregnancy and Newborn Magazine's Knocked Up Blogger during her pregnancy with her second daughter who was born healthy and alive in March of 2014.