New Books, DVDs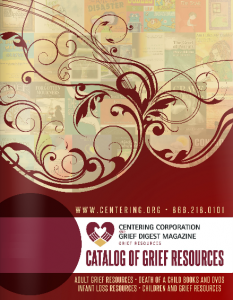 The following titles are new to Centering's catalog. Some of these books have traveled thousands of miles with Centering's mobile bookstores for The Compassionate Friends, National Alliance for Grieving Children, and Tragedy Assistance Program for Survivors (among others). Our 2016 catalog is available and you may request one (or several) to be delivered if you wish.
Artful Grief
A Beautiful Grief
Breathe
EDNA
The Family Caregiver's Guide
Finding Hope
Gratitude In Grief
Growing Young
He Plays a Harp
Healing Improv
Helping Your Child With Loss and Grief
Hope & Healing for Transcending Loss
Just One Little Thing
Loving Connections
Men, Grief, And Solitude
The Moon To Play With
November Mourning
Nurturing Healing Love
Parenting Through Grief
Return To Zero (DVD)
Saying Goodbye To My Awesome Pet
The Seven T's
Supporting Children and Teens Through Loss and Grief
Sweet Old World (DVD)
Three Minus One
What Do We Tell the Children?
When Aunt Mattie Got Her Wings
When Dreams And Daughters Die