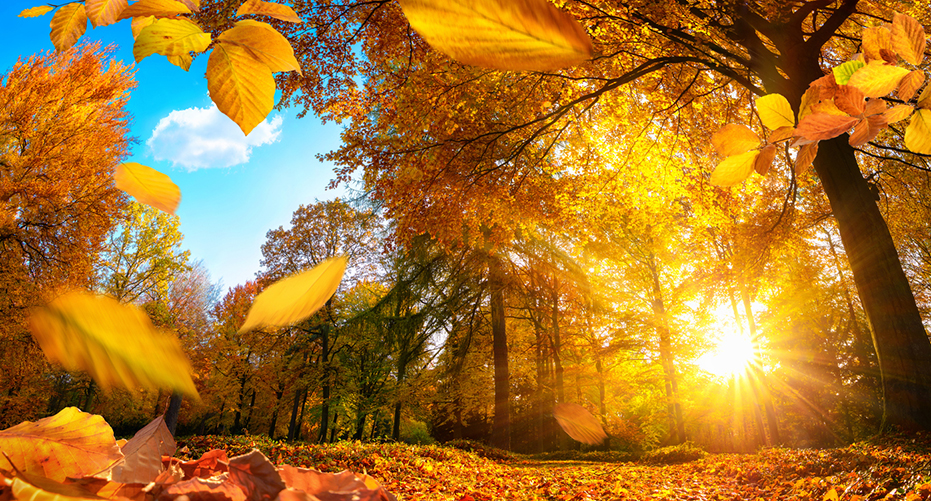 I'm sitting at my dining room table and out the window I see rays of sunshine streaming through trees. I sense you among these rays, and I miss you. Golden sunlight illuminates this bright green forest I live in and the leaves change colors before my eyes, as this Autumn season settles in with certainty. The forest has begun its ecstatic transformation. Orange, red, yellow.
You, my father, transitioned from this life three weeks ago this morning on September 27, 2014 at 6:25 am. You are this golden ray of sunshine coming through the trees crossing my field of vision. With a heavy heart I feel you there, despite my disbelief. I miss the form you took in this life and in my life, and yet I'm beginning to start to feel that you are now everything beautiful I get to see, sense, and hear. I miss your humor, your voice, your hugs, your accent, your silly made-up languages, your knowledge of a few words in many real languages, your specific way of caring. I miss you in the flesh, the live, supple, warm, eye-gazing, heart beating, lung breathing, strong you. I miss the way you used to smell my hair.
I flew to Florida to spend what would be our final major holiday together, Rosh Hashanah. I came straight to the nursing home where you had been living. At my first site of you in several months, tears welled up. You looked barely alive. You were no longer the strong, dark-skinned father of my memories. You looked like a ghost of your former self. You had stopped eating days before, having begun your transition. I visited at this particular time because there were things I wanted and needed to tell you, and I guess some part of me knew there was not much time left. You seemed to recognize me, but didn't say so. I was able to tell you that I was going to miss you when you were gone, through tears, under the shade of an oak tree in the middle of a walk I took you on for some fresh air, a blue South Florida sky above. You began crying too and for a moment, you were lucid and knew me, and everything. And I knew too, that your time was limited and nothing could stop this from happening to you. Nothing could make this go away. Nothing could be different. I told you that everyone would be okay; that all of us would be okay. And then I thanked you for being my father in this life. Around us was the familiarity of the synagogue we went to for most of my life and the train tracks we'd crossed hundreds of times to get there.
As I leaned over your wheelchair and looked you in your eyes, our eyes full of tears, I fell in new love with you, my father. The good, the bad, the ugly. It was simpler than it ever was. In this moment, you were perfection, despite all your imperfections in life and as my father. I was able to tap into an eternal love for your great spirit that walked this earth for 78 years. The spirit beyond your trauma. I then laid your hand on my belly and introduced you to the grandchild you would not get to meet in the flesh. You did not respond.
The rest of the week we spent together in your room, I gave you a manicure, told you over and over again that I loved you, planted kiss after kiss on your body, read you stories, and wheeled you around for fresh air. I rubbed your feet and you rubbed mine, with a strength I was surprised you still had. I played you music that you loved, and even though you couldn't remember my name, you remembered the names of the musicians playing your songs, Louis Armstrong, Dave Brubeck, Django Reinhardt. And I do think peace found its way to your heart for some moments in that nursing home. It felt right to be by your side and I also felt the immense weight of grief growing inside me as I sensed, but did not know for sure, that these were probably our final interactions with one another. I had an overwhelming need to soothe and caretake you, and if I could have, I would have rocked you like a newborn baby.
A part of me wanted you to go, because you would have hated your life and what it became. You were not you anymore, and yet, you were you, a you at the end of your days. I too will eventually weaken, lose strength, lose weight, lose life force, maybe become confused. This is one of life's certainty's for us all. It was an honor for me to witness you in the December of your days, and for you to know on some level that I wasn't scared of you for changing. That even though this was a shocking to witness transformation, I loved you so fully.
Your last day of life haunts me still, but peace is beginning to wrap her arms around my heart, slowly. When I walked into the nursing home that morning I found your face a shade of awful green and your eyes far away, moaning in pain. You could not verbalize what hurt. Hours passed. No medical staff was able to provide you the support you needed. I held your hands, rubbed your shoulders, read to you, played you music and tried my hardest to get you pain relief. One final time I asked you, who am I, who came to visit you? And through your moaning you said my name for the first time all week.
You passed away the next morning, unexpectedly, and I missed your last breath by seven minutes. I was awoken by mom shouting up the stairs that she got a call from the hospice nurse that you were dying and would be gone in the next 20 minutes. I was disoriented and in shock, and could not figure out what to wear. We decided to transfer you to the hospital the night before because there was nothing they could do to help you at the nursing home. We left you in the ER that night after having decided to admit you to hospice. We were encouraged to go home and that you were stable and would be cared for. Mom and I decided to leave you. You had become so sick that day and looked so miserable, but still there was no warning that it was to be your last night of life. No one was with you for your final transition. The evening prior to your passing, I kissed your warm left temple and told you I'd see you later. I wish I could know for sure that the choice to transition alone was one you made with peace, and there was nothing we did wrong by leaving you.
There were these precipices I kept having to face that week. Seeing my father's dying self in the nursing home, seeing my father's dead body in the hospital room, watching and feeling my father's body become stiff, my father being wheeled out of the hospice room on a gurney covered in a black sheet while my mother and I hugged each for support. My father's cold body in a casket, writing my father's eulogy, reading it in public, having a torn cloth pinned to my dress at his funeral- signifying that I was a mourner, saying the mourner's kaddish, my father being lowered six feet into the Earth, the thump of the dirt being tossed on his casket, tossing dirt on his casket, having a machine pile a mound of dirt on his casket, walking away and leaving his body there alone underground, sitting shiva, trying to sleep that first, second, and third night, having my heart explode into pieces, returning to Asheville to my life here and not being able to make sense of what happened to you. Each edge felt like too much. Because it was.
We walked into your hospital room seven minutes after you had taken your final breath. We sat with your body for four hours. After spending all week with you, you finally looked at peace. Calm and settled. Quiet. We chanted songs, read poetry, sat in silence, talked to you, talked to each other, sat in disbelief, wonder, sorrow. It was sacred ground to be by your side during this time, holding you as you transitioned from your body.
Once we left your side, the Shomer (someone who stays with the body until it is buried) took over this duty. His name was Dov (meaning Bear in Hebrew). He had the look of an Orthodox Jew; a long beard, payos, a kippah. He had kind eyes, a sincere heart, and was gentle. He told me he had been keeping watch over you. He shared with me that you had been with company for the last 24 hours, and not alone. He also said that he had been chanting your name to the One to assist in the raising of your spirit. I felt so much gratitude in that moment for Dov and the Jewish tradition for offering a solid container and support system during this rite of passage.
The funeral was hard and also beautiful. Close family were granted time to view your body before you were buried. You were inside of a beautiful, plain, unfinished pine casket. You were most definitely not alive, and yet you were as peaceful as I've ever seen you. We placed keepsakes in the casket, pictures of all your children and grandchildren, your parents, musicians you adored, a hat you loved, some tapes of music you enjoyed when you were alive. I touched your cheek and it was cold. Before I left you, I laid a photo on your chest of you, mom, and your parents on your wedding day, and behind that, a photo of our family on my wedding day. I felt both a sense of shock and acceptance, and let universal love carry me through it.
The service was led by the Argentinean Rabbi in town, whom you had a nice connection with for many years. The ceremony was personal, deep, and comical too. It was a beautiful send-off, even amidst the sun-scorching September heat of a South Florida afternoon. There was so much love surrounding us and you, it helped make it all possible. Your body in the casket, the heat, the grief, the beauty of all the support and love: it was dream-like. In the week that followed your funeral, sitting Shiva and receiving the bountiful love of friends and family was truly a beautiful and touching experience.
You come into my dreams at night, but so far they have been grief stricken. I'm hopeful that one day they are filled with memories of you in your aliveness and I can take them in without waking up so sad.
When I was a little girl and I had passing thoughts or nightmares about my parents dying, I'd get scared. Something I felt I would never survive if it was to happen to me. And now, it's happened to me and I am still here. Because even through the worst of the worst pain in life, such as is losing a parent, somehow it's still survivable. Maybe it's because I began preparing for this many months back or because I have so much support in my life. Or, maybe it has something to do with the baby growing inside me that makes the grief bearable. You passed away during my 18th week of pregnancy. The number 18 is a spiritual number in Judaism meaning "alive" or "living." That's something magical. You passed away on 9/27. 9+2=11. 11/7 was your birthday. That's something magical. You also passed during the Days of Awe, the days between Rosh Hashanah and Yom Kippur, some of the holiest days in Judaism. My holy father. You are something magical.
I'm 31 years old and my time of having you in my life has ended. Your moments here are over. Memories of your life flash through my mind and everything I've ever known of you. My heart aches deeply. May this Autumn transformation support your passage to the afterlife and may you be in deep final peace and not have to return here ever again. You truly live through me.
ABOUT THE AUTHOR----------------------
Nancy Krisel lives in the beautiful Appalachian Mountains of Asheville, North Carolina with her husband, three-year-old daughter, and their large pup. She enjoys time with her family and friends, as well as hiking, cooking, painting, writing, dancing, and gardening.
At the University of Florida Nancy received a Bachelors degree in Visual Arts Studies, and Western Carolina University is where she completed a Master's degree in Social Work. Additionally, Nancy is certified as a Somatic Experiencing Practitioner, a Bodywork and Somatic Education Practitioner, and has recently completed a Yoga teacher training for Mental Health Practitioners. She currently has a private psychotherapy practice where she focuses on helping people heal from trauma and other painful life experiences.
Nancy has always loved to write, but after losing her father she was inspired even more to process her grief in this way. She is hopeful that by writing about her experience, it might be supportive and healing for others.